Virginia Down Payment Assistance (VHDA)
We are pleased to offer several loan options through VHDA to qualified home buyers.  The VHDA loan program offers a variety of loan options including FHA, VA, USDA and Conventional loans.  In addition to these options, VHDA also offers a down payment assistance second mortgage option that can be used with the FHA program and a down payment assistance grant, which can be used in with the Conventional and FHA loan programs.  USDA and VA loans are already 100% financing loan options.
The VHDA down payment assistance grant program is offers up to 2.5% of the sales price or appraised value – whichever is lower.  The applicant must prove they have at least 1% of their own funds for down payment/closing costs.
The VHDA's second loan program offers second mortgage options up to 5% of the sales price/appraised value – whichever is lower.
Program Specifics to Qualify:
Cannot have owned real estate in previous 3 years (3 years federal tax returns required).
660 minimum credit score.
Home Buyer education required. Click here for the free online class.
1 unit homes & primary residence only.
Borrowers cannot have a net worth exceeding 50% of the sales price of the dwelling financed.
Income limits & sales price limits per chart below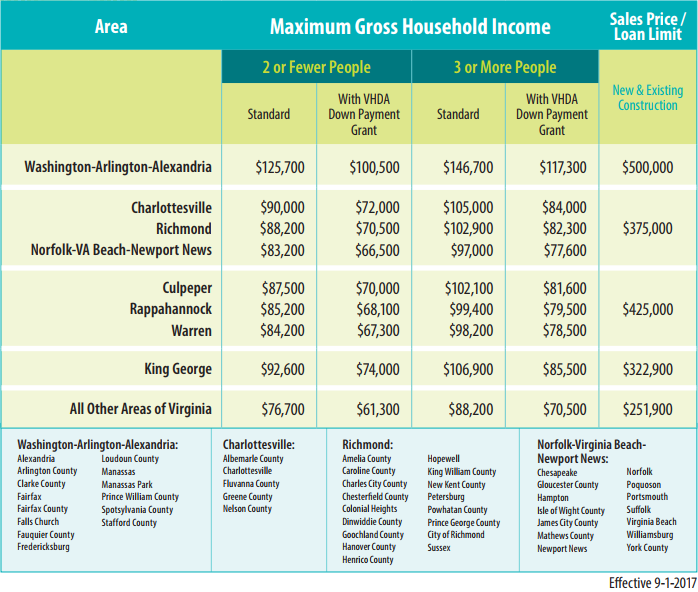 Certain income limits and loan restrictions could be waived in areas of economic opportunity.  These are federally targeted areas.  Click here for the property lookup tool.
Eligible applicants may also apply for the Mortgage Credit Certificate (MCC) to take advantage of even greater annual savings at tax time.
For more information about VHDA, Click Here.
Feel free to call us with questions at 240-670-5090, email us at jordanteam@firsthome.com or Pre-qualify Here.